Sandra Azevedo

Graduated in Agro-Food Engineering, with specialization in Technology of Horticultural Products and Post Graduate in Management of Quality and Food Safety and in Management of Safety and Occupational Health.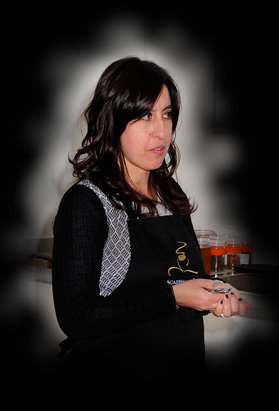 Discovered in 1999 her passion for Coffee, having developed her professional activity in the sector as Quality Manager until 2013.
IEFP Certified Trainer, since the year 2000 she's been training people in Coffee.
In 2004, invited by a publisher, published the book Everything You Always Wanted to Know About Coffee.
In 2007 obtained certification as a Coffee Taster at International Institute of Coffee Tasters (Istituto Internazionale Assagiatori Caffè).
In 2010 was invited to become a Member of the Technical and Scientific Commission of the AICC (Industrial and Comercial Association of Coffee).
In 2011 fulfilled a lifelong dream and founded Academia do Café®.
In 2012 became a member of SCAE (Speciality Coffee Association of Europe).
In 2013 overcame another challenge it has set itself and achieved the SCAE Coffee Diploma. Became SCAE Authorised Trainer, being one of the few people in the world able to certify in five Modules of the Coffee Diploma System: Introduction to Coffee, Green Coffee, Roasting, Sensory Skills, Brewing and Barista Skills.
In 2015 achieved the skills certification Q Arabica Grader, granted by the Coffee Quality Institute.


Academia do Café®

Academia do Café® was born from a passion but also the goal and dream of helping to promote the consumption of quality coffee. Because coffee is not merely a drink that we take at the break from work, or the way we finish a meal, what is before us is these moments, what we take in our taste. Although Portugal is a country with a coffee culture, lack of information and knowledge makes consumers, and even coffee lovers, undemanding at the time to drink a coffee.
Have you had any coffee that left you a bas taste in your mouth? Ever thought of returning it because it was cold, burnt... very bad? Did you know that coffee may taste like chocolate, flowers or fruit? Have you ever met someone who can give you answers on everything you ever wanted to know about coffee?
Academia do Café® is a training and consulting company specialized in bespoke training courses, workshops, lectures and events about coffee. We have courses for professionals (roasters, baristas, coffee shops, restaurants, etc.) and also for lovers and coffee drinkers.
We love coffee, taste it, talk about it, but above all teach and learn about this wonderful product, so unknown to most people.